Manufacturing Assembly Mechanic Certificate
8 Weeks | 18.5 Credits | 50% Online - 50% Lab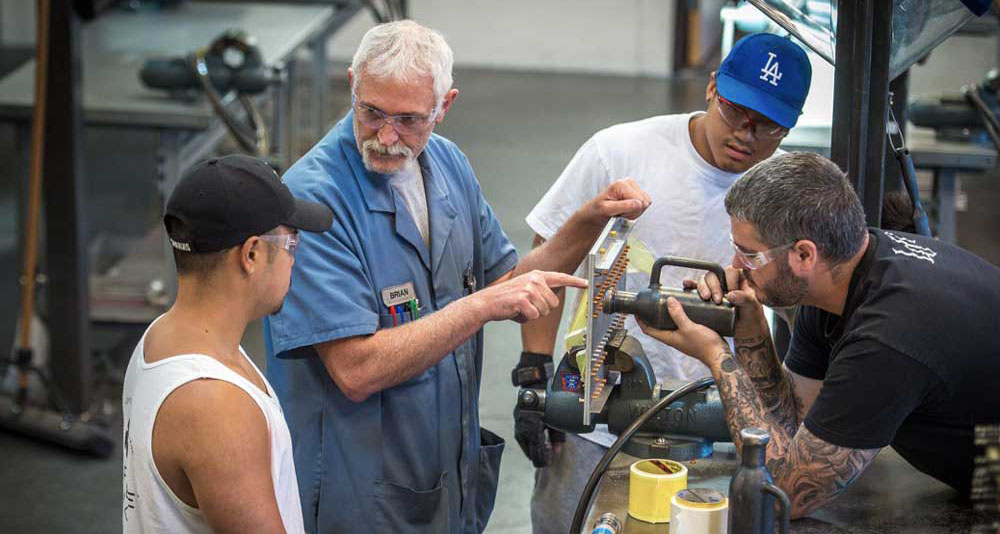 About the Certificate
Certificate in Manufacturing Assembly Mechanic provides advanced understanding of manufacturing procedures with a focus on aviation.
Since the job duties can vary widely, the assembly mechanic must possess an extensive knowledge of tools, processes. and inspection methodologies.
Topics Covered
Safety procedures




Personal Protective Equipment (PPE)
Hazardous waste handling, clean-up, and disposal
Tool and equipment safety

Mechanic Orientation
Power Island
Basic Drilling and Riveting
Advanced Fasteners
Countersinking and Flush Riveting
90 Degree Drilling
Reaming and Permanent Fasteners
Wing Structure
Blueprint reading
Fuselage Skin
Drilling Titanium
Drilling Composite
Sealant Application
Electrical Bonding and Grounding
Composite Manufacturing
COVID-19 safety and cleaning procedures
Prerequisites
The Manufacturing Core Certificate must be completed to take this certificate.
Students must be over 18 years of age to participate in the lab portion of the course.
NO pre-testing is required, including the Accuplacer test.
Career Paths
Graduates of this program qualify for entry level positions as assembly mechanics. Assembly mechanics perform a wide range of job duties including assembly of aircraft, assembly of parts, and more.
Graduates of the assembly mechanic program find jobs performing a broad range of activities from processing and fabrication to assembly and inspection. Many of the skills obtained in the Manufacturing Assembly Mechanic program can readily transfer to a variety of manufacturing fields including aerospace, maritime, construction, medical devices, space, automotive, and military/defense.
Sample of reported job titles:
Sheet Metal Assembler and Riveter (SMAR)
Structures Technician
Helicopter Mechanic
Aircraft Line Assembler
Assembly Riveter
Helicopter Technician
Line Assembler
Structures Mechanic

Helpers-production workers
Register
If you have questions about registration, please call 425.640.1840.
TOP